RX-Series and RE-Series: SNMP- and WWW-Manageable 32-Channel Chassis for Central Sites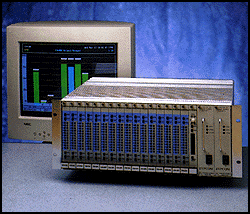 16 slots for dual modem cards; 32 modems into a single 4U (seven inch) high chassis
Slot 17 for a chassis control card
Front loading capability that eliminates need for recabling when changing equipment
Single and dual universal AC or 48VDC power supplies
Z3200E network management system card for SNMP- and WWW-based centralized control of remote chassis
LCD-equipped Z3200 controller for complete front-panel and VT100 control port operation
Support for a wide range of modem standards: ITU-T V.34+, V.34, V.32bis, V.32, V.33, V.22bis, V.22, V.23, V.21, Fax Group III, V.17, V.29, V.27ter; AT&T V.32terbo, 212A/103 on dial-up and 2-/4-wire leased lines
Hot-swappable modem cards, power supplies and control cards
The Zypcom Z32CH chassis system provides a growth path solution for dial-up networking applications. The Z32CH's modular design can be configured as a basic modem pool or an advanced network access solution that operates with your existing Unix SNMP manager.
Central Site Consolidation
The Z32CH chassis provides a high-density rack-mounted solution for housing modems at a central site or LAN/Internet access point. Requiring only seven inches of vertical height, the Z32CH mounts in a standard 19-inch equipment rack, is convection-cooled and can be stacked up to nine high (288 modems) in a standard seven-foot cabinet.
Configuration Flexibility
The Z32CH's modular design accommodates three different chassis control cards (manual selector card, LCD front-panel card and a SNMP-/WWW-manageable card) to fit varying customer requirements. Four different power supply options (AC, DC, dual AC and dual DC) are available. With four different modem cards for a wide range of modulation types and speeds, the Z32CH allows you to configure the system that your application requires.
LCD and Front-Panel Control
Zypcom's rack-mounted modems contain status and interface LED displays. To augment the modem LEDs, the LCD-equipped Z3200 control card adds full front-panel and VT100 port control. The Z3200 control card can address one to thirty-two modems in the Z32CH chassis and allows for configuration, diagnostics, and monitoring. All modem software based-features can be controlled from the front-panel LCD or the VT100 port either locally or remotely.
SNMP Management and WWW Access
The Z3200E management control card adds an embedded SNMP agent to the Z32CH chassis. The Z3200E's MIB-II agent complies with RFC1696 and allows for fault monitoring, diagnostics, configuration, security management, operational statistics and new modem and controller firmware downloads. The Z3200E management controller can work with your existing SNMP client or with the Zypcom-supplied ZSNMPc by Castle Rock to lower network operating costs and maximize access. The Z3200E management controller also includes an embedded WWW server for managing your Zypcom modems and chassis with a Web browser. Use your browser over the WWW or across the corporate LAN to access the Z3200E's home page for complete modem management capabilities.
The Intelligent Choice
The Z32CH is a full-featured network access solution for traditional mainframe and minicomputer access to the newer client/server and remote LAN node applications.
Specifications
The Z32CH Chassis
Configuration
Slots 1-16 for up to 32 dial-up or leased line modems
Slot 17 for a control card (3 choices: 1. Selector card with LEDs; 2. LCD-equipped Z3200; 3. SNMP-managed and LCD-equipped Z3200E)
Slot 18 for single or dual power supply
Slot 19 for dual power supply (slot 18 must have dual supply)
Note: 1 status LED on single power supply, 3 status LEDs on dual power supply
Chassis Rear Panel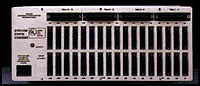 4 RJ27X (50 pin) telco connectors
34 RS-232-D connectors (32 for modems and 2 for control card)
1 IEC electrical connection
Control Card Front (only 1 control card per chassis)
Selector card: 6 LEDs (modem address, modem status, port select); 3 switches (modem, control, passthrough); Speaker with control
Z3200 card: LCD display (4 lines by 20 characters); 1 jog dial (left, right, enter and one escape key); Speaker with volume control
Z3200E card: LCD display (4 lines by 20 characters); 1 jog dial (left, right, enter and one escape key); 10Base-T LAN port; 3 LEDs (net, err, pak); Speaker with volume control
Control Card Rear
Selector card: 2 RS-232-D (25 pin) connectors for DTE control port and daisy-chain. Note: Modem selection is by front panel switch
Z3200 card: 1 RS-232-D connector for VT100 control port
Z3200E card: 2 RS-232-D connectors for VT100 control port and PPP/SLIP port
Dimensions Chassis dimensions and weight; Height: 7.0 in (17.8 cm); Width: 19.0 in (48.3 cm); Length: 14.0 in (35.6 cm); Weight: 14 lbs. (6.37 kg.) unloaded
AC Input to Chassis Single or dual universal auto-selecting AC power input; 115 VAC (90 to 130V); 5A max. load with 16 cards; 230 VAC (180 to 250V); 2.5A max. load with 16 cards; Cycles: 47-63 Hz
Power Dissipation Chassis convection cooling; Power supply self-contained forced air
Temperature Operating temperature: 32° to 122° F (0° - 50° C) ambient; Storage temperature: -4° to 158° F (-20° - 70° C); Operating humidity: Less than 95%, non-condensing
Agency Approvals FCC Part 15—Class A, UL/CSA
Modem Compatibility ITU-T: V.34+, V.34, V.32bis, V.32, V.22bis, V.22, V.21, V.23; AT&T: V.32terbo, 212A, 103; Note: Z34-RX and Z34-RE are V.34+/V.34
Modem Speeds 33.6K, 31.2K, 28.8K, 26.4K, 24K, 21.6K, 19.2K, 16.8K, 14.4K, 12K, 9.6K, 7.2K, 4.8K, 2.4K, 1.2K and 300bps; Note: Z34-RX and Z34-RE are 33.6k to 300bps
Modem Front Panel 11 LEDs—TXD, RXD, CTS, DTR, CXR, EC, AA, SYN, SPD, FAX, SI; 2 front panel keys DATA and TEST (ALB and RDLB)
Ordering Information
Each Z32CH chassis includes power supply, selector card and AC power cord. Optional Z3200 or Z3200E control card replaces slot 17 selector card. Telephone cables (P/N 91009-200) are ordered separately.
Chassis
Models Description
Z32CH 16 slot chassis with selector card, AC power supply
Z32CH-2 16 slot chassis with selector card, dual AC supplies
Z32CH-48 16 slot chassis with selector card, single 48VDC supply
Z32CH-48-2 16 slot chassis with selector card, dual 48VDC supplies (special order)
Chassis
Options Description
91009-200 Cable dial-up/leased line (4 slots per cable)
Z3200 LCD-equipped control card
Z3200E SNMP/WWW management control card
ZSNMP SNMPc management client software for PC
94200-096 Single AC supply
94200-097 Single DC supply
94200-098 Dual AC supply
94200-099 Dual DC supply (special order)
Modem
Models Description
Z34-RX 33.6 dual modem (dial-up, 2-wire/4-wire leased line)
Z32t-RX 19.2 dual modem (dial-up, 2-wire/4-wire leased line)
Z32b-RX 14.4 dual modem (dial-up, 2-wire/4-wire leased line)
Z34-RE 33.6 dual modem (dial-up/ 2-wire leased line)
Z32b-RE 14.4 dual modem (dial-up/2-wire leased line)