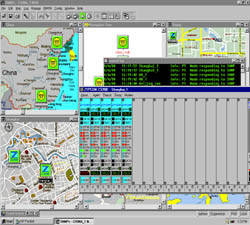 Remotely configure, monitor and troubleshoot modems using industry standard SNMP over a LAN or across the WWW
Attach Zypcom management port directly to 10Base-T LAN or PPP port.
LCD for full control of modems from chassis front panel and VT100 command port for local or remote control of modems
Embedded SNMP agent, PPP, Telnet and FTP servers
ZSNMP bundles Castle Rock SNMPc for network discovery, mapping, real time monitoring, event action filters, alarm setting, threshold levels and tracking as well as short and long term statistics
Graphical User Interface for point and click optioning, monitoring, and diagnostics of chassis and modems
Built-in applets for chassis fault and performance monitoring, modem statistics, errors and protocols and utilization
ZSNMP integrates with HP OpenView/Windows
Zypcoms Z3200E control card for the Z32CH chassis marries the SNMP agent to the modem pool. SNMP management and embedded agents normally reserved for smart routers, hubs or servers are now available for analog modem pools. The Zypcom modem pool consists of a chassis and various dual rackmount modem cards. Combine the modem pool and a Z3200E control card and get a SNMP managed modem pool that becomes a full blown network node. Manage this network node using ZSNMP PC software using a point and click graphical user interface. Or compile the Zypcom MIB and manage the chassis and modems using your existing SNMP manager software. Network Computing rated SNMPc number one in a recent review of SNMP network management software.
Manage Your Entire Network
The Zypcom's SNMP network management system (NMS) which combines a Z3200E control card for the modem pool chassis and ZSNMP software offers full functionality for managing Zypcom modems as well as including management information bases (MIBs) for over 350 other SNMP manageable devices.
Simplify Complex Tasks
The combination of a Z3200E control card and ZSNMP software will simplify the most complex tasks of managing a small or large modem pool. Copy modem configurations from existing modems to newly installed modems. Schedule all modems for a firmware upgrade with a few clicks of the mouse.
Know What's Wrong
With the Zypcom SNMP network management system you will know about modem problems before anyone else does. Call the telephone company to fix lines before your customers call you to complain. Busyout troubled modems and put into service your spares from your desktop computer at work or your laptop from home. Know when you need to add capacity before your users tell you.
Price/Performance
With its ease-of-use, SNMP compatibility, manageability, versatility and graphical user interface, the Zypcom SNMP management system offers the best price/performance ratio available today for industry standard SNMP managed modem pools.
Z3200E Control Card for Z32CH Chassis
Z3200E Operation
Front panel LCD, VT100 control port, Telnet, FTP and SNMP (SNMP, FTP and telnet access is via 10Base-T or PPP/SLIP port)
Z3200E Connections
VT100 control port: DB-25F (EIA-232), PPP/SLIP port: DB-25F (EIA-232), Ethernet 10Base-T port: RJ-48S on front panel
Z3200E Front Panel
4X20 character backlit LCD, three way jog dial (left/right/enter), RJ48S ethernet port, Network LED, Error LED and Packet LED
Hardware Required
VT100 control port: VT100 compatible terminal; 10Base-T port: Win95 PC with NIC card; PPP/SLIP port: Win95 PC with modem
Software Required
Access Z3200E 10Base-T port: Win95 Telnet, Win95 FTP, ZSNMP manager; Access via PPP/SLIP port: Win95 Dial-up Networking, Win95 Telnet, Win95 FTP, ZSNMP manager
LCD Main Menu
Main menu selections: Option Z3200E, option modems, monitor modems, diagnostics, equipment map, activities pending, alarms, define modem group, update modem code, load new code to Z3200E flash
Z3200E Alarms
Defined alarms: Defined Z3200E alarms can be viewed in all modes of operation (LCD, VT100, Telnet, SNMP). The defined alarms are: Controller reset, power supply failure, fan failure, Z3200E firmware upload error, modem addressing failed, modem not ready, ring no answer, no dialtone, modem firmware upload error, ALB-S/T error, RDLB-S/T error, wrong access password, telnet sessions exceeded, FTP sessions exceeded, group congestion, modem(#) deleted, excessive retrains, DTR went down, incoming connect failed, outgoing connect failed, no data flow, modem(#) added, busied out, test mode, connected, DTR went up, callerID (xxx-xxx-xxxx), ALB-S/T passed, RDLB-S/T passed and modem(#) idle.
Selectable alarms: With ZSNMP software all MIB variables can have an alarm threshold value set
SNMP Statistics and Status
| | |
| --- | --- |
| SNMP Statistics | Statistics are available using PC software ZSNMP or other SNMP managers (H/P OpenView, etc.). The event log file can be exported to Excel (Office '97) for statistical analysis and graphing. The events tracked are: Number of ring-no-answers, incoming connection failures, incoming connection completes, failed dial attempts, outgoing connection failures, outgoing connection completes, number of modem retrains, number of connections at various speed ranges (less than 2400bps, 2400-14.4K, 16.8K-24K, 26.4K-33.6K and greater than 33.6Kbps), number of no error control connections at various speed ranges (less than 2400bps, 2400-14.4K, 16.8K-24K, 26.4K-33.6K and greater than 33.6Kbps), number of error controlled connections, number of connections with data compression, data compression efficiency, sent bytes, received bytes, sent data frames, received data frames, resent frames, error frames, idle minutes, connect minutes, test mode minutes, number of modem resets, chassis utilization (all or by defined group) |
| SNMP Status | Graphical interface for point and click modem status: Modem line state (idle, test, on-line, busy out), current transmit rate, current receive rate, initial transmit rate, initial receive rate, modulation scheme in use, line quality, receive level, round trip delay, far end echo level, near end echo level, EIA signal status (DTR, CXR, RTS, CTS, DSR), call duration, callerID number and modem information (assigned group, model, controller revision, datapump revision, serial number, customer assigned ID) |
Ordering Information
The Z3200E control card adds sophisticated SNMP network management system (NMS) capabilities to the Zypcom chassis and rackmount modems. Installs into slot 17 of the chassis.
Model
Description
Z3200E
Control card for Z32CH chassis
Options
Description
ZSNMP
SNMP manager, Zypcom customized version of Castle Rock's SNMPc software for Windows 95
NMS Compatible
Chassis
Description
Z32CH
16 slot with one AC power supply
Z32CH-2
16 slot with two AC power supplies
Z32CH-48
16 slot with one DC power supply
NMS Compatible
Modems
Description
Z34-RX
33.6K dual modem
Z34-RE
33.6K dual modem
Z32t-RX
19.2K dual modem
Z32b-RX
14.4K dual modem
Z32b-RE
14.4K dual modem